WASHINGTON — URA hosted its Annual Council of Presidents Meeting and Policy Forum at Convene Conference Center in downtown Washington on February 9, 2023.
The annual meeting gathered over 60 URA member universities from institutions located across the U.S. and Europe to discuss the current research landscape. Topics that were discussed included public access to open science, research funding, workforce development and international research partnerships. In addition, the URA staff presented their annual reports, and the Council approved the 2022 meeting minutes.
The forum opened with remarks from Dr. Maryam Zaringhalam, assistant director of public access and research policy at the Office of Science and Technology Policy (OSTP). Zaringhalam spoke about the Office's new Year of Open Science policy which follows the Ensuring Free, Immediate, and Equitable Access to Federally Funded Research memorandum issued in August 2022. The new policy requires all federal agencies with R&D expenditures to remove any access restrictions to free and publicly available data and research findings. Zaringhalam noted interagency groups such as CENDI and online resources such as Science.gov are working to help implement the change.
URA invited forum policy speakers Rep. Bill Foster (D-IL) and National Nuclear Security Administration Undersecretary Jill Hruby to speak about their unique positions in supporting and overseeing U.S. science and technology activities.
Congressman Foster (D-IL) emphasized the importance of long-term investments in national research and infrastructure as well as congressional disjoint when evaluating short and long-term goals in highly technical fields. Foster, a PH.D. physicist, worked at Fermilab for over two decades prior to his career in Congress and was a part of the team that discovered the top quark.
Undersecretary Hruby spoke about the Administration's strategic direction to expand their workforce and bolster talent pipeline programs for fields in science, technology and engineering. The Administration's demand for a highly technical workforce echoes the continued reliance on universities and the wealth of expertise and resources that they provide.
Dr. Lia Merminga provided a brief report on Fermilab, sharing the lab's vision to be the world leader in particle and accelerator physics. The report included updates on current and upcoming projects such as the Long-Baseline Neutrino Facility, the Proton Improvement Program II and the Deep Underground Neutrino Experiment.
The forum also focused on new federal programs aimed at advancing use-oriented and translational research such as the newly formed National Science Foundation Directorate for Technology, Innovation, and Partnerships (TIP). Dr. Erwin Gianchandani, assistant director of TIP, gave insights on these new efforts in a fireside chat with Dr. Betsy Cantwell, senior vice president of research at the University of Arizona. Efforts include technology transfers and aiding the deployment of new research to meet the nation's economic and societal needs.
The meeting concluded with a panel highlighting international science partnerships. Topics brought up in the panel included preserving research security and integrity, the synergetic relationship between universities and national laboratories and government guidance surrounding national laboratories.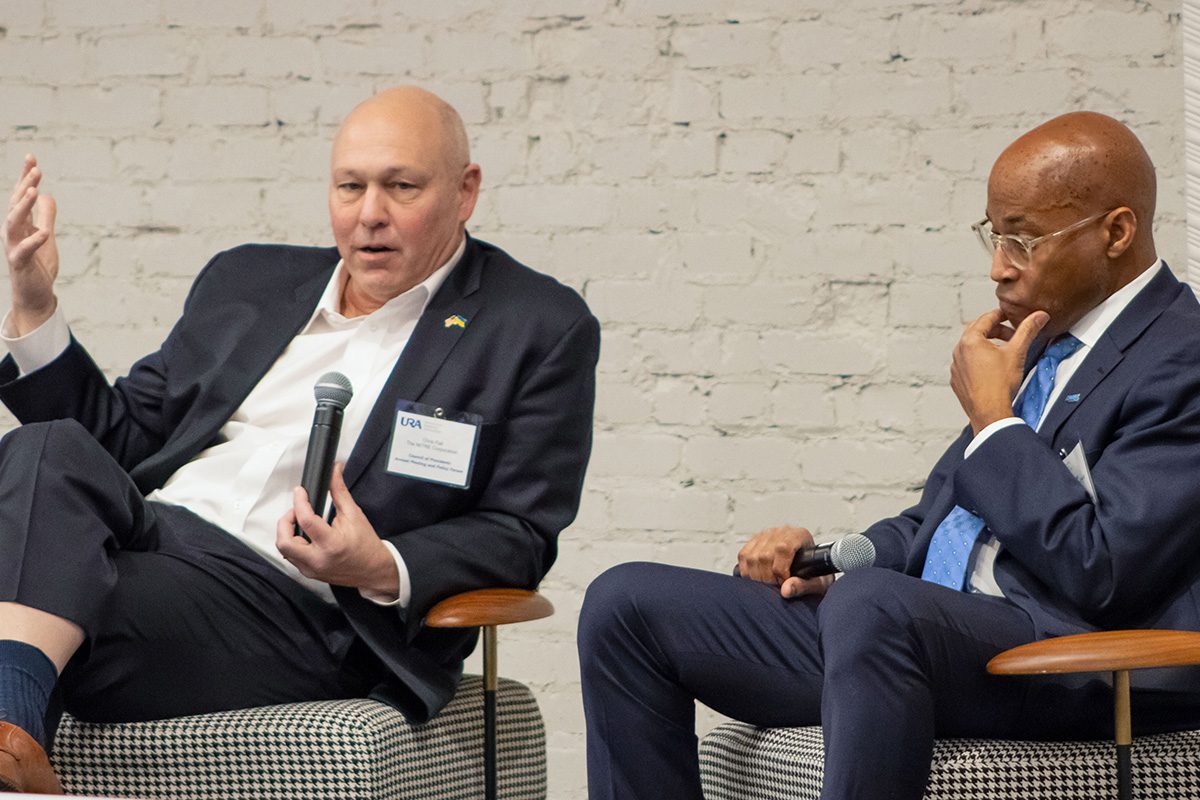 Policy Panel on International Science Partnerships
Dr. Chris Fall (left) and Dr. Peter Green (right)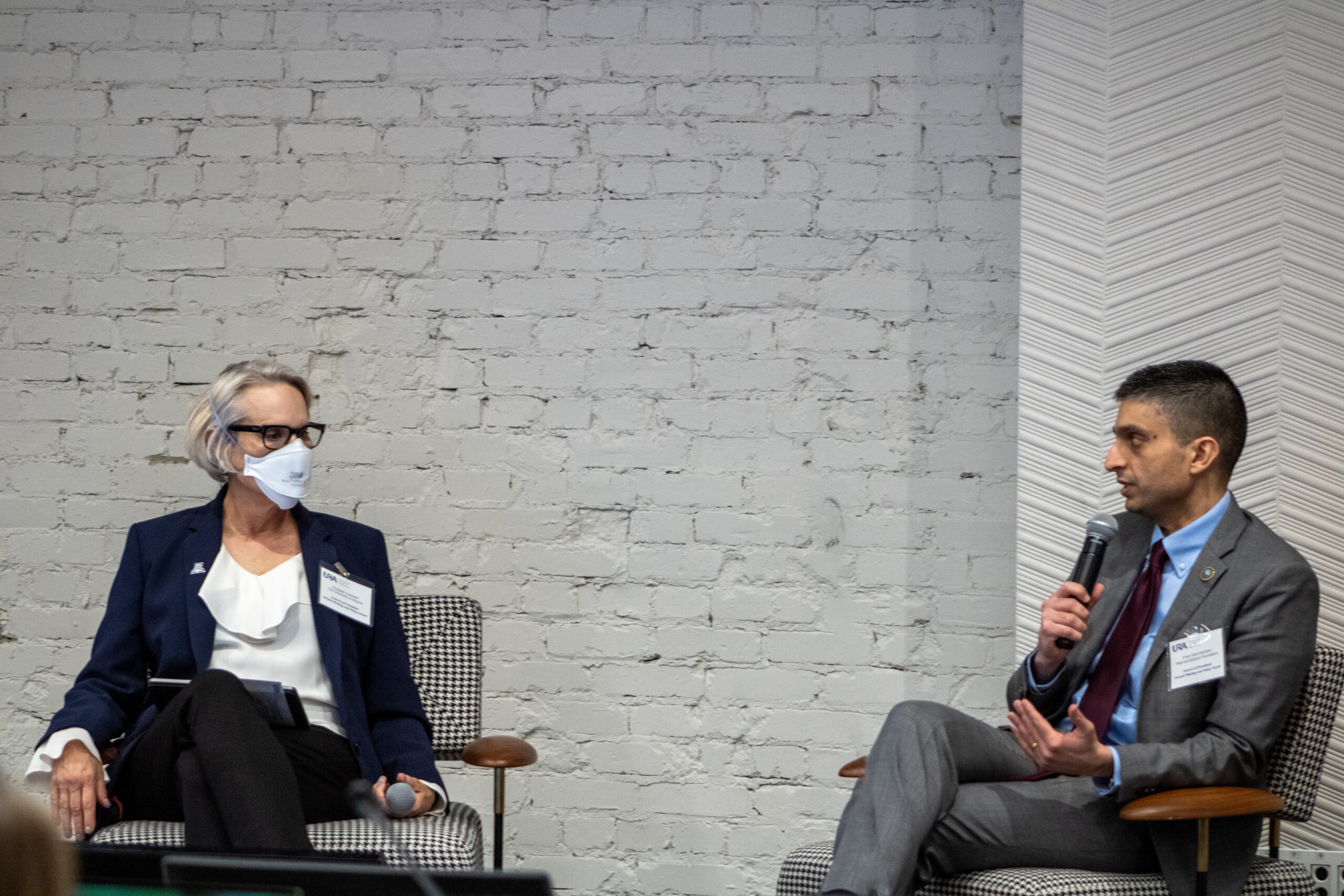 Moderator Dr. Betsy Cantwell (left), Senior VP of Research at the University of Arizona, and Dr. Erwin Gianchandani (right)
Arizona State University Executive Director Rachel Levinson (left) & Tulane VP of Research Giovanni Piedimonte (right)
Policy speaker Congressman Bill Foster & URA Council Chair Angel Cabrera
URA President John Mester (left), Congressman Bill Foster (right), & Georgia Tech President Angel Cabrera (left)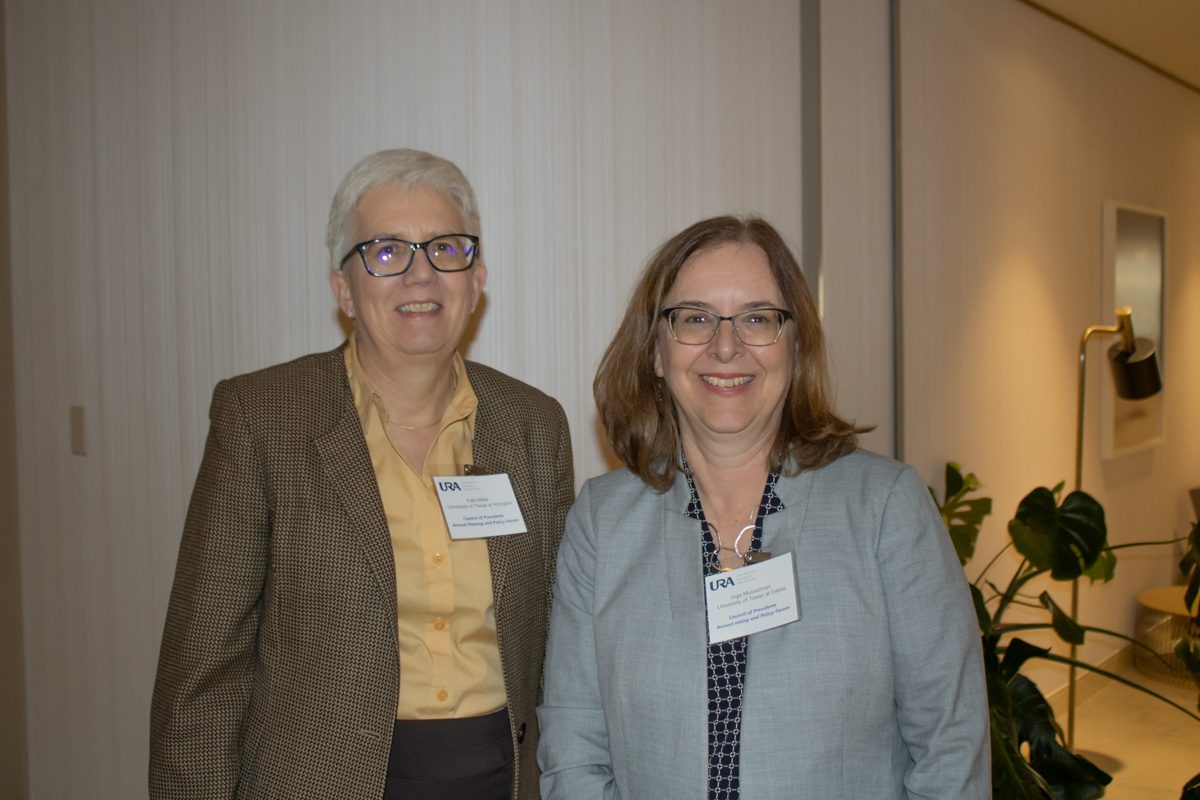 University of Texas System leadership attend annual meeting
UT-Arlington VP of Research & Innovation Kate Miller (left) and UT-Dallas VP of Academic Affairs & Provost Inga Musselman (right)
URA Board of Trustee Dr. Jonathan Holloway (left) and URA President Dr. John Mester (middle)