Explore Scientific Discoveries
URA represents national interests in the management and operation of research facilities. Centered between academia members and partnering laboratories, URA helps foster scientific collaboration among these stakeholders to support national and international projects.
Collaborations between academia and research facilities are aiding both national and international projects such as the Long-Baseline Neutrino Facility (LBNF) and Deep Underground Neutrino Experiment (DUNE). LBNF/DUNE is a leading neutrino experiment investigating neutrino oscillations to help scientists understand the origin of matter, the formation of black holes, and potentially, Einstein's Unification of Forces.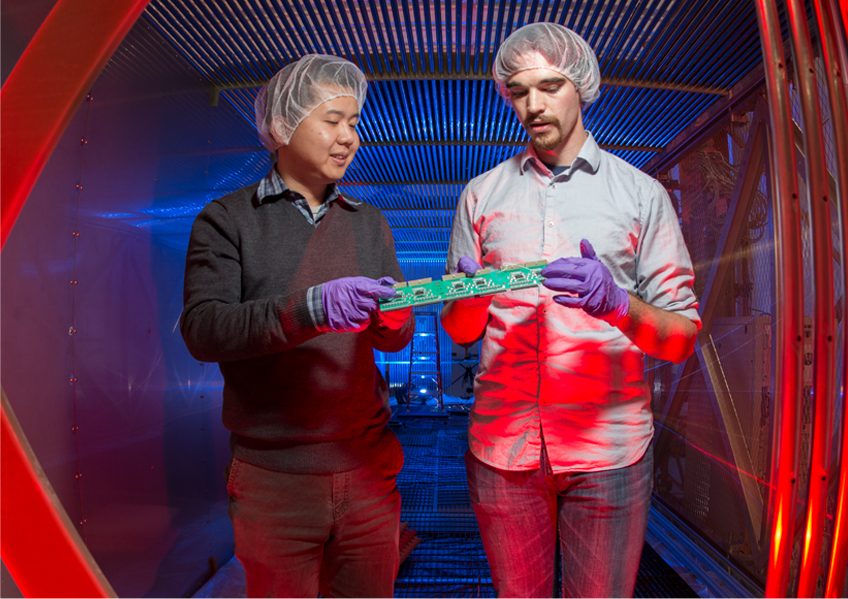 The project is powered by Fermilab's PIP-II proton accelerator and is made up of two underground particle detectors: one is located at Fermilab and the other is 800 miles downstream at the Stanford Underground Research Facility in South Dakota. The project is composed of over 1,000 scientists from more than 200 institutions in over 30 different countries.
Data Analysis
Information technology is the design and implementation of computer networks for data processing and communication. This includes designing the hardware for processing information and connecting separate components, and developing software that can efficiently and faultlessly analyse and distribute this data.
Research Profile
The Large Hadron Collider (LHC) located at CERN is the world's largest and most powerful particle accelerator. LHC is leading high-energy physics (HEP) experiments and working with international partners such as Fermilab to uncover the biggest mysteries facing that field.